If there is one industry needing the most attention to cleaning, that would be the healthcare industry. In dealing with diseases and injuries, hospitals and clinics require completely cautious cleaning altogether. In case of any stones unturned, it can affect the patients' hygiene.
Moreover, a clean and spotless medical facility helps in the faster recovery of patients and maintains the premises clean. While there is hospital staff taking care of cleaning needs, they need to consider some crucial tips while maintaining healthcare facilities effectively. Here are some "not-to-miss" ones.
Seven Cleaning Tips for Medical Facilities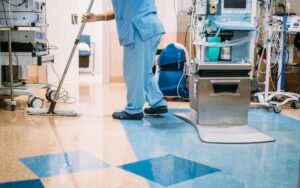 1. Clean Everything, Every Day Religiously
Just because the exam room or an empty ward seems visibly clean, you cannot skip cleaning it. Every surface attracts dirt and needs regular cleaning along with disinfection every single day.
You have to be consistent and religiously follow the clean-up schedule to maintain a healthcare facility's cleanliness. This is also one of the effective janitorial cleaning tips from experts.
2. Use Safe Cleaning Products
Using toxic cleaners and harmful agents, especially in sensitive places like hospitals, can harm the health of the staff, doctors, and patients. Whether it is disinfecting the patient beds or hospital floors, you should always prefer safe solutions. Else, the toxic residue can make people ill instead of getting cured.
3. First Clean and then Disinfect
One of the essential tips for the hospital's staff would be the distinction between cleaning and disinfection. Many cleaners either use disinfectants without clean-up or just clean the surfaces without sanitization. Cleaning is essential to remove the surface dirt and disinfection is crucial for killing germs and bacteria. Ensure that you do both.
4. Follow Label Instructions
When using cleaning solutions on hospital surfaces, make sure you use them just as directed on the label of instruction. Not every product is meant to be used the same way. Different chemicals take different methods of application and are better effective only when used in the way they are meant to be used.
5. Do not Hurry
It is understandable that the clean-up needs to be quick in healthcare facilities. However, hurrying the process can in turn give you ineffective results. Ensure that you don't miss out on giving the cleaners the amount of time they need to work on the surfaces.
Many cleaners demand 10 minutes to work after application. Look and read what your product takes and give it enough time before cleaning.
6. Use an Adequate Quantity of Cleaners
Just like using the right method of cleaning is essential, it is equally important to use the right amount. Using too little quantity of cleaning solutions, just to reduce the drying time, won't be effective and shows no results. Similarly, using too much cleaner may harm the surface and even the health of the people by releasing harmful fumes.
7. Hire Professionals
Many times, the hospital staff cannot provide the deep cleaning that a hospital needs every once in a while. Regular cleaning differs from a thorough cleaning of every nook and corner. That's why you should schedule a deep cleaning of your healthcare facility by hiring professional janitorial cleaning services every month or as needed.